While you're searching for the perfect vehicle, you want to make sure that the dealership you choose exceeds expectations in every aspect of the car-buying experience. By doing so, you'll ensure that every minute of your journey is efficient and convenient.
Well, that's exactly what we strive for at our Toyota dealership near Lexington Park, St. Mary's County, and Mechanicsville. From our comprehensive warranty that comes with every new Toyota to our 72-hour exchange policy, and everything in between, we're your one-stop-shop for top-notch customer service.
Of course, those are only two of the many reasons why you should buy from our Southern Maryland Toyota dealership. Ready to find out more? Let's get started.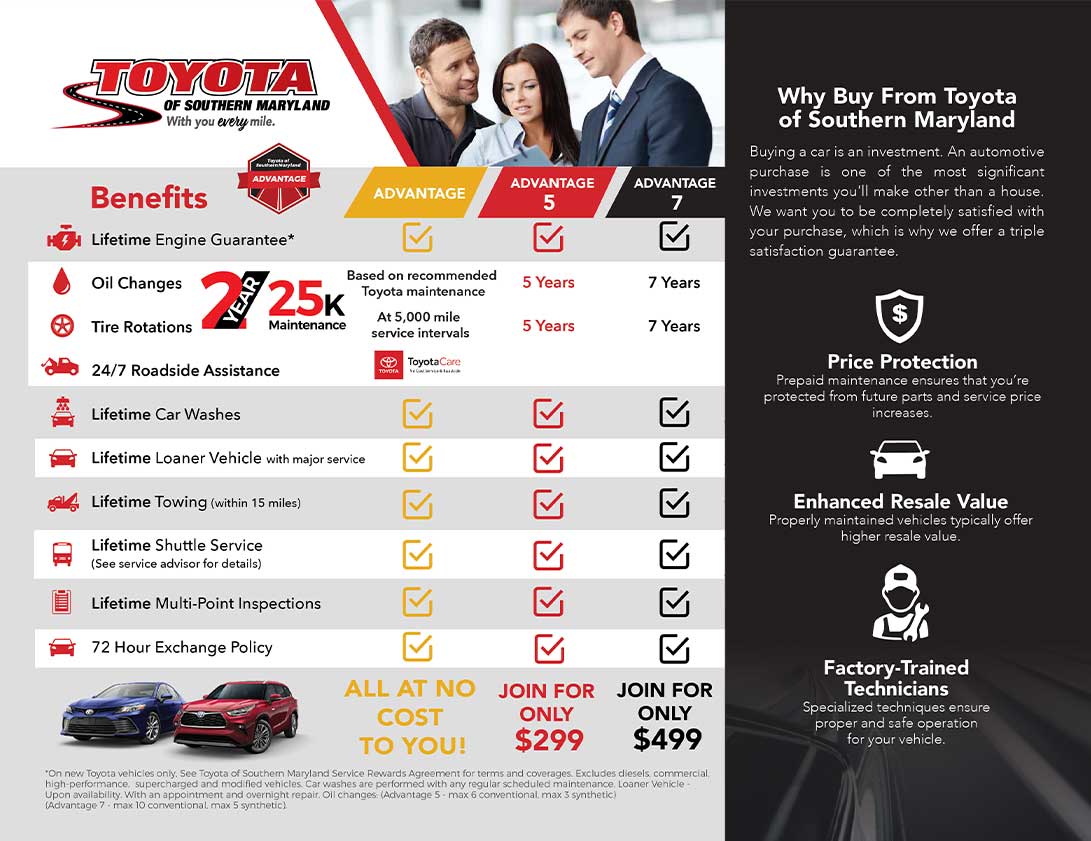 Benefits Of Buying From Our Dealership
Staying ahead of the game is what our Toyota dealership does best. Not only do we provide our customers with a wide variety of stylish Toyota vehicles, but we've also mastered the art of fair financing and expert automotive service.
On top of that, our team goes well beyond the standard by equipping each of our vehicles with a long list of benefits-benefits that, ultimately, give you more peace-of-mind for the road, such as:
Service Specials
6-month/6,000-mile Certified Pre-Owned Warranty*
72-hour exchange policy
Lifetime Advantage policy and more
To expand upon some of the advantages of choosing our Southern Maryland Toyota dealership, let's review the details of our 72-hour exchange policy. With this policy, you have the option to bring back your new vehicle within three days of your purchase.
So, if you suddenly decide that you'd prefer a sleek Toyota Camry over a sporty RAV4, all you have to do is arrive with your car and speak with our professionals. Then, you'll be headed back home inside your perfect Toyota automobile.
We Are Here For You
At Toyota of Southern Maryland, we are committed to supporting our customers through the good times and through the bad. We have been servicing our community for over 20 years and don't plan on stopping now! We have been given certain procedures to follow by the CDC and want to ensure you that we are doing everything we can to keep our business running in a safe manner. To keep our staff and our customers' safe, we have dramatically increased our cleaning routines.
We are happy to announce that we have created a shop from home program. This program allows our customers to shop online from the comfort and safety of their homes. Once you find a vehicle you love, we will deliver the vehicle to your driveway for free! If you are interested in learning more about this program please give us a call at 301-863-7555!
We look forward to serving you today and for many years to come!
Our Toyota Vehicles & The Lifetime Advantage Policy
As a car owner, convenience is crucial. That's why every new Toyota vehicle comes with our exclusive Lifetime Advantage policy, which serves up a selection of perks.
For instance, this warranty provides you with 24/7 Roadside Assistance. Thanks to this convenient benefit, you'll traverse the highway knowing that you'll be supported by dedicated service technicians if something goes awry.
Some of the other perks included with the Lifetime Advantage policy are as follows:
Car Washes (with regularly scheduled maintenance)
Shuttle Service
Loaner Cars
Multi-Point Inspections
Towing (within 15 miles)
Lifetime Advantage
$250 Additional Trade-in Allowance
3% Service Repairs (includes parts & labor)
2% Military/First Responder
Includes:
Top Dollar For Your Trade-Ins
Engine Ownership Guarantee*
Car Washes**
Loaner Car***
Shuttle Service
Multi-Point Inspections
Towing
ToyotaCare - 2 Year 25k Maintenance
Oil & Filter Changes
Based on recommended Toyota maintenance. Reg oil every 5,000 miles or 6 months and synthetic every 10,000 miles or 12 months
Tire Rotations & Inspections at 5,000-mile service intervals
24/7 Roadside Assistance
Plus 72 Hour Exchange Policy
Advantage 5
$500 Additional Trade-in Allowance 7% Service Repairs (includes parts & labor) 3% Military/First Responder
Includes all of the Above PLUS
Oil Changes for 5 years****
Tire Rotations for 5 years
Advantage 7
$750 Additional Trade-in Allowance
10% Service Repairs (includes parts & labor)
5% Military/First Responder
Includes all of the Above PLUS
Oil Changes for 7 years****
Tire Rotations for 7 years
*On new Toyota vehicles only, see Toyota of Southern Maryland Service Rewards Agreement for terms and coverages. Excludes diesel, commercial, high-performance, supercharged and modified vehicles. **Car washes are performed with any regular scheduled maintenance. ***Upon availability. With an appointment and overnight repair. ****Oil changes: (plus 5 - max 6 conventional, max 3 synthetic) (plus 7 - max 10 conventional, max 5 synthetic).~Kelley Blue Book Fair Trade Value less for over mileage and reconditioning costs.
Plus, the Lifetime Advantage policy presents ToyotaCare, a no-cost maintenance plan that covers certain automotive services for two years or up to 25,000 miles, whichever comes first.
In short, our dealership's Lifetime Advantage policy provides you with the confidence of a healthy vehicle and service support, no matter what you encounter during your time as a Toyota owner.
Why Buy From Our Toyota Dealership? Learn More Today!
At Toyota of Southern Maryland, we believe that the only way to fully enjoy the roads near Lexington Park, St. Mary's County, and Mechanicsville is by hopping inside a Toyota ride that's armed with exclusive perks.
Fortunately, we make it easy for drivers to choose our Toyota dealership by offering a multitude of benefits that are designed to make your life even easier.
Now that you know a little more about why it's time for you to buy from our dealership, all you have to do is take the first step by visiting our showroom, giving us a call, or scheduling your test drive today!
Receive a 6 Month/6,000 Mile Limited Warranty* on ALL Used Car Purchases with under 80,000 miles from Toyota of Southern Maryland in Lexington Park, MD. Get some piece of mind with your used car purchase from Toyota SMD and take advantage of our used car warranty that comes with each used car purchase. For complete details, please Contact a Representative.